Hey howdy hey!
I'm linked up with Thrifty Decor Chick
today, so if
you're joining me for the first time, welcome! Nice to meet ya! I've also linked with Kara over at elements interiors. Click her button to see all the fabulous trees there too!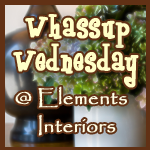 This is our mostly-hallmark-with-a-lot-of-star wars-Barbie-and-Toy Story ornaments tree...
(and yes, that's where we like to keep the green balloon)
(please ignore the fact the fact that I ran out of pink ribbon halfway down. Poop)
These aren't ornaments, they're two of my kids...
Our star topper with Barbie. She's pretty.
the
A King is Born
ornament is the one I scored at the ladies ornament swap this year. Love it.
Star Wars!
More Barbies!
My Alma Mater...Montevallo
Dorothy's ruby slippers from Miss Amy
Sorry...just had to include another pic of her...
Another one of my faves- a theatre
This was my
Baby's first Christmas
ornament when I was a babe.
Merry Christmas friends!
(
as we are once again running out the door to school)
Hope you have a great day!